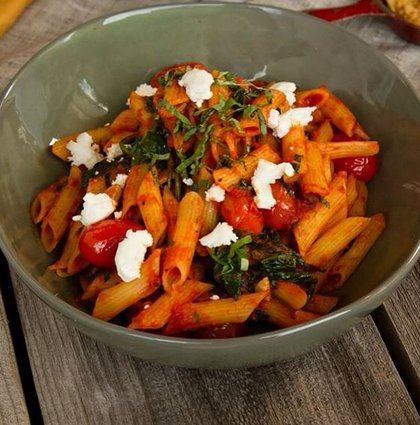 Tomato Basil Penne
Ingredients
Penne Pasta
Tomatoes
Spinach
Fresh Basil
Goat Cheese
Gluten-free Bread
Health Information
Calories: 680
Total Fat: 23 grams
Sodium: 930 mg
Sugar: 10 gram
Protein: 15 grams
Your diet doesn't have to take a vacation when visiting Milestones Fallsview Restaurant. We offer a number of healthy options, including our famous Tomato Basil Penne.
Toronto based Registered Dietitian Andrea Falcone recommends this dish, pointing out the lower sodium levels which can be attained with requesting a smaller amount of sauce. She also recommends the following:
"Ask for the dish to be made with less sauce, add grilled chicken and take half home with you for the next day's lunch. Since the pasta is a healthy version of carbohydrate, you can ask to remove the gluten-free bread that comes with the meal. Starting with a small house salad or adding in vegetables to the dish will help you get your veggie intake too."
Tomato Basil Penne is available on both the Lunch & Dinner menu and is a great healthy option for those interested in a pasta entree.
For reservations call 905-358-4720