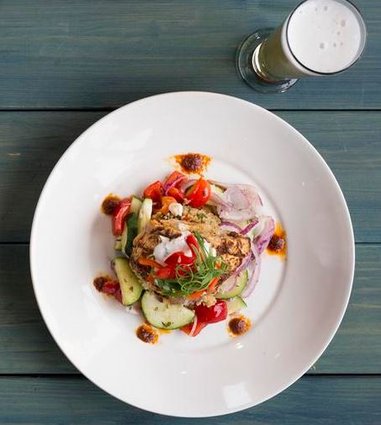 Ingredients
Fontina Cheese
Lemon Mint Yogurt
Quinoa Pilaf
Seasonal Vegetables
Health Information
Calories: 650
Total Fat: 35 grams
Sodium: 1770 mg
Sugar: 8 grams
Protein: 45 grams
Milestones Spicy Harissa Chicken is a power packed Protein meal with a spicy kick. With 45 grams of protein, it's the perfect meal for those looking to increase muscle tone and strength. The meal is a treat year round and is perfect when paired with one of our cold Bellini's.
Edmonton based Registered Dietitian Megan Wallace agrees, saying this about the dish:
"I have ordered this one before because it is full of flavour. The protein will make it stick to your ribs and it is not fried or coated in a sweet sauce!"
Spicy Harissa Chicken is available on our Dinner menu and is a great entrée to enjoy while taking in the breathtaking view of Niagara Falls, found exclusively at Milestones Fallsview Restaurant.