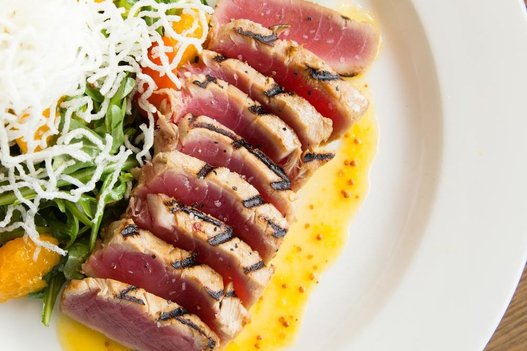 Ingredients
Seared Ahi Tuna
Fennel
Arugula
Sliced Egg
Mandarin Orange Vinaigrette
Health Information
Calories: 620
Total Fat: 27 grams
Sodium: 960 mg
Sugar: 26 grams
Protein: 55 grams
Ahi Tuna isn't your everyday Tuna. It can be difficult to find, especially in climates such as Canada, and especially Ontario. It is a yellowfin tuna that is primarily found in waters of tropical and subtropical oceans. It provides a great deal of protein, potassium and B-12.
Registered Dietitians Rebecca and Reisha Harper of Harper Nutrition weigh in on the dish:
"The tuna is an excellent source of essential Omega-3 fatty acids which help to protect your heart and lower your cholesterol...This salad also provides 25 per cent of your daily iron needs."
Ahi Tuna Tataki Salad is available on both of our Lunch and Dinner Menus. For more information and to make a reservation call: 905-358-4720