Lunch & Dinner Menu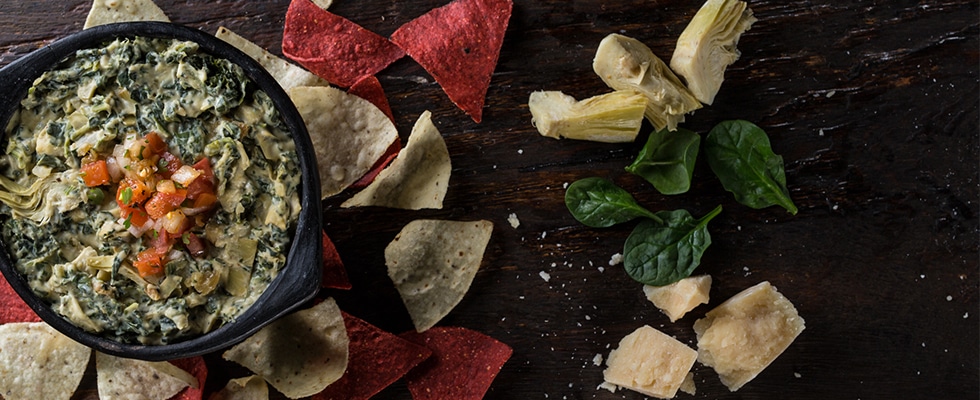 Starters
Hot Spinach & Artichoke Dip
Creamy spinach, artichoke hearts, imported Italian cheeses, served with crispy tortilla chips and fresh cut salsa 15.5
Mediterranean Goat Cheese Platter
Warm goat cheese with red pepper relish. Served with toasted focaccia bread, fig jam, and roasted garlic ❦ 15.5
Coconut Calamari
Delicious strips of coconut marinated calamari, golden fried and served on a bed of crisp rice noodles with mango chili dipping sauce 15.5
Chicken Wings
Toss in your choice of sauce: sriracha Buffalo, sweet sesame ginger, or spicy harissa. Served with Asian slaw and roasted garlic Parmesan dip. 16
Asian Chicken Bites
Classic chicken bites are given a tasty twist with crisp wontons, fresh cucumber and sweet chili sauce 15.5
NEW

Crispy Cauliflower Bites

Tender cauliflower florets breaded in panko and Asiago before being lightly fried and topped with our signature spicy harissa sauce. Served up with a cool cucumber mint yogurt for dipping ❦ 13
NEW

Wham-Bam Shrimp

Crispy breaded shrimp that have been tossed in our house-made Wham-Bam sauce that packs a kick. Finished with sesame seeds and paired with some extra Wham-Bam sauce for dipping 15.5
NEW

Bruschetta Flatbread

Grilled flatbread topped with basil pesto, wild baby arugula, tomato bruschetta, feta cheese, and drizzled with a stone fruit balsamic reduction ❦ 14.5
Yam Frites
Served with three delicious dips – chili avocado aioli, garlic Parmesan dip, and truffle aioli ❦ 8.5
Roasted Mushroom Soup
Roasted field mushrooms, focaccia croutons and basil infused oil ❦ 9
French Onion Soup
The perfect blend of caramelized onions, focaccia croutons and Swiss cheese 10
Sold by the Each
Prime Rib Slider
Our signature Prime Rib hand carved to order, crispy buttermilk onion strings, herb jus and garlic horseradish mayo come together for the perfect slider 7.50/ea
Catina Fish Taco
Crisp fried basa on a soft grilled white flour tortilla topped with mozzarella cheese, cabbage jicama slaw, cilantro lime dressing, chili avocado aioli, fresh cut salsa, avocado and fresh cilantro 7.50/ea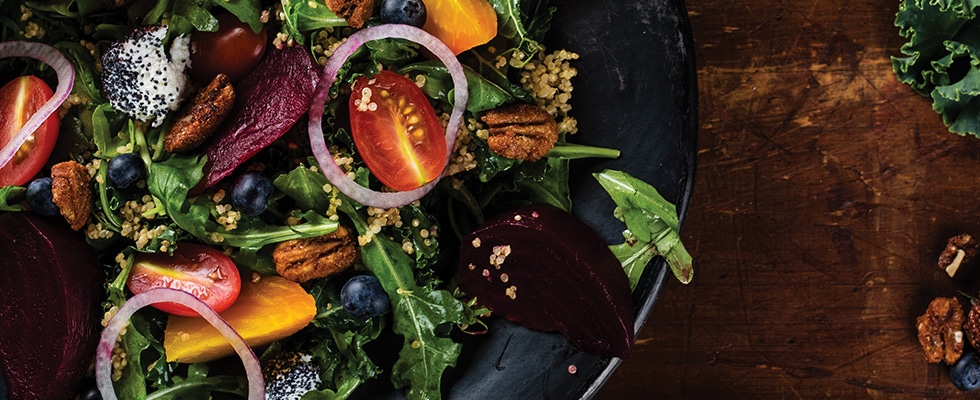 Salads
Roasted Garlic Caesar Salad
Romaine lettuce and baby kale, tossed with smoked bacon, Parmesan cheese, focaccia croutons and our signature Caesar dressing 15.5
Roasted Beet and Goat Cheese Salad
Roasted red and golden beets, wild baby arugula and super foods – kale, quinoa and blueberries – topped with goat cheese, spiced pecans and fig balsamic dressing ❦ 17.5
Surfside Salad
Grilled salmon and shrimp seasoned with chili salt on a bed of greens with fresh avocado, grilled pineapple, sweet peppers, crisp rice noodles, and fresh cut salad tossed in our honey citrus vinaigrette 27
The Chopped Salad
Fresh avocado, chickpeas, red onions, corn, feta cheese and crispy tortilla strips, tossed with our honey lime peanut vinaigrette and drizzled with peanut sauce ❦ 19
Milestones California Spring Salad
A refreshing medley of goat cheese, fresh strawberries, red onions and spicy glazed pecans, tossed in our honey mustard vinaigrette ❦ ☑ 19
Add fresh grilled chicken 7
Add fire-grilled shrimp skewers, salmon or steak 10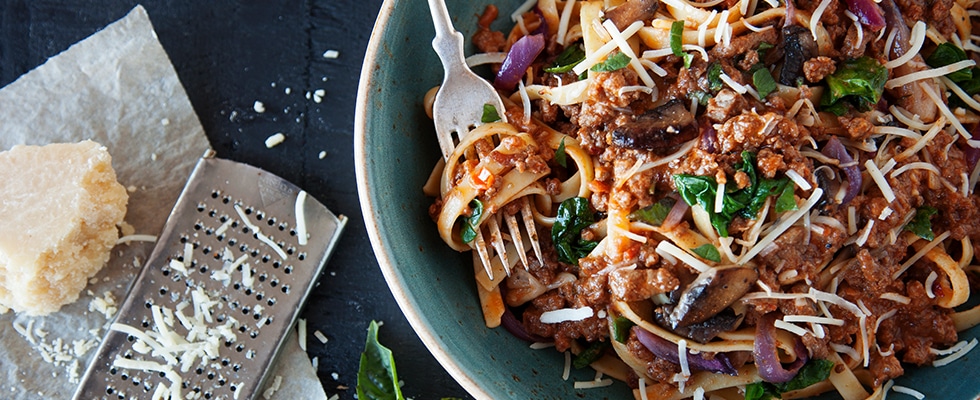 Pasta & Bowls
Spicy Thai Basil Noodles
Shrimp, chicken, and fresh vegetables, sautéed in a Chili-infused coconut sauce, tossed with rice noodles and drizzled with peanut sauce 24.5
Pesto Chicken Penne Asiago
Sauteed chicken, red peppers, tomatoes and spinach tossed in our house-made Asiago pesto cream sauce topped with fresh basil 25.5
Thai Red Curry Bowl
Your Choice of fresh chicken or beef simmered in our red curry coconut cream sauce, Asian vegetables and crisp wontons, served on a bed of jasmine rice 23.5
Seafood Pasta
A new twist on an old favourite! Salmon, basa and shrimp tossed in a lobster butter sauce with roasted red onions, mushrooms, spinach, roasted tomato chutney and vermicelli noodles with Asiago cheese 26.5
Butternut Squash Ravioli
Pan fried butternut squash ravioli, leeks, green apples, sweet drop peppers in a brown butter sauce. Topped with goat cheese, spicy glazed pecans and crisp sage ❦ 25.5
Crispy Sweet Chili Chicken
Crispy chicken bites tossed in our signature sweet chili sauce, stir fried with Asian vegetables and jasmine rice in a coconut sauce. Topped with crisp wontons and scallions 23.5
Add a piece of warm garlic foccia bread 1
Substitute any noodle for gluten-free penne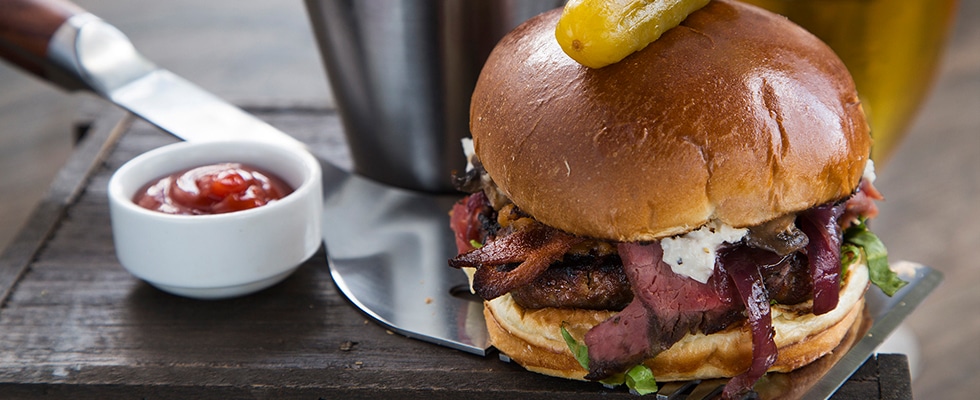 Burgers & Sandwiches
California Burger
Fresh, ground chuck burger topped with candied bacon, mozzarella cheese, avocado, lettuce, tomato and our signature house-made burger sauce on a toasted egg bun 22.5
Old Fashioned Burger
Fresh, ground chuck burger topped with smoked bacon, aged cheddar cheese, lettuce, tomato and our signature house-made burger sauce on a toasted egg bun 22.5
Brie and Mushroom Burger
Fresh, ground chuck burger topped with Brie cheese, roasted button, shiitake and portobello mushrooms, lettuce, tomato, onion and our house-made burger sauce on a toasted egg bun 22.5
Garden Burger
A delicious vegetarian burger, avocado, roasted red pepper relish, crisp lettuce, tomato, onion and our signature house-made burger sauce on a toasted egg bun ❦ 18.5
All burgers, sandwiches and tacos are served with golden fries or a side of Roasted Garlic Caesar Salad.
Prime Rib Sandwich
Our signature Prime Rib hand carved to order, crisp buttermilk onion strings, herb jus and garlic horseradish mayo come together on a soft egg bun to create the ultimate sandwich 24
NEW

Caprese Crispy Chicken Sandwich

Crispy panko Asiago crusted chicken topped with delicious crisp smoked prosciutto, roma tomato sauce, and mozzarella cheese. Finished with arugula, red onion, and basil pesto, on a toasted egg bun 20.5
Rustic Chicken Club
Fresh grilled chicken, roasted garlic mustard mayo, candied bacon and Brie cheese served on a toasted cranberry pumpkin seed baguette 21
Ultimate Fish Taco Duo
Golden fried basa filet, Asian slaw, mozzarella cheese, mango and fresh cut salsa served on a soft flour tortilla 20
Substitute for a Milestones California Spring Salad 1
Substitute for yam fries 2.5
Add beef gravy for 1.5
Substitute your egg bun for a gluten-free bun.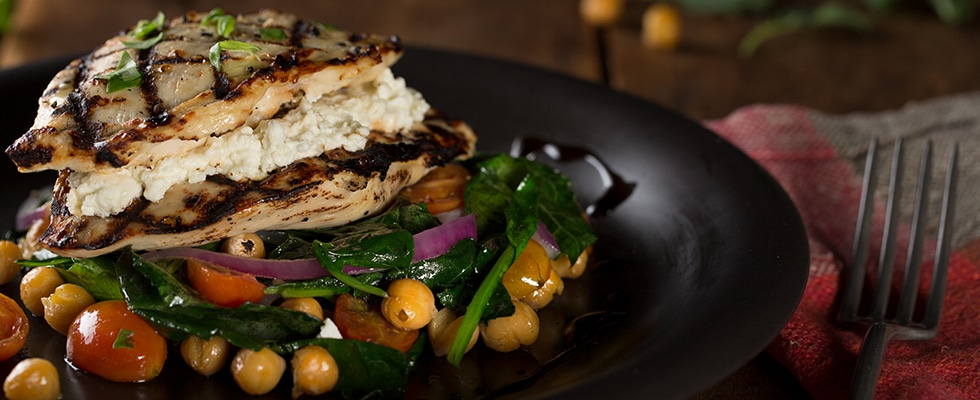 Mains
Cajun Shrimp Creole
Sauteed Louisiana-style shrimp, scallions and roasted field mushrooms in a spiced Cajun garlic cream sauce. Served with sautéed vegetables and jasmine rice 27.5
Ginger Glazed Salmon
Freshly grilled salmon topped with ginger soy glaze and grilled pineapple. Served on a bed of Japanese inspired shrimp fried rice and sauteed bok choy 29.5
Portobello Mushroom Chicken
Fresh basil, roasted garlic cream sauce, vermicelli noodles and seasonal vegetables come together in this exquisitely rich Milestones classic 28
Mediterranean Chicken
Grilled chicken breast layered with goat cheese on a bed of baby spinach and kale, chickpeas, grape tomatoes and stone fruit balsamic drizzle ☑ 26
NEW

Roma Chicken Parmesan

Chicken Parm from the old country. Two giant crispy Parmesan-breaded chicken breasts, smothered in three cheeses – mozzarella, provolone, and asiago, topped with roma tomato sauce, garlic Parmesan aioli and baby arugula. Served on a basil pesto and roasted garlic cream spaghettini with seasonal vegetables 25.5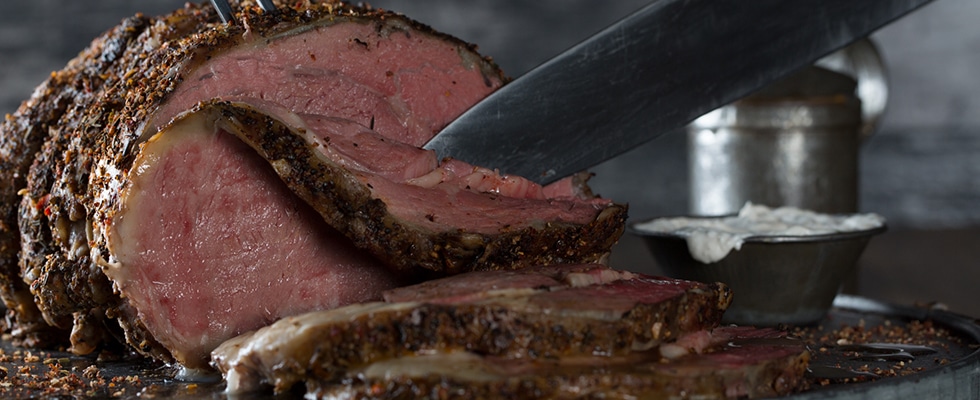 Steaks & Prime Rib
Steak Frites
Grilled steak with on herb jus reduction. Paired with golden Parmesan fries and truffle aioli 26
Grilled Sirloin
8 oz top Striploin seasoned and grilled to perfection. Served with seasonal vegetable and your choice of roasted garlic mashed potatoes, golden fries or quinoa pilaf 29
Surf & Turf Sirloin
8 oz top sirloin topped with six succulent shrimp in a lobster butter sauce. Served with seasonal vegetables and your choice of side 39
NEW

New York Striploin

12 oz New York striploin grilled with our signature seasoning, served with seasonal vegetables and your choice of side 46
Slow Roasted Prime Rib
29 years of experience has led us to our best tasting Prime Rib ever. Slow roasted and seasoned with our signature house-made blend of spices. Served with an herb jus, horseradish, crispy buttermilk onion strings, seasonal vegetables and your choice of side
10 oz 38 14 oz 43
Add peppercorn sauce 2.5
Add beef gravy 1.5
Add Wham-Bam Shrimp 9
Add fire-grilled shrimp skewers 10
Add bowl of sauteed mushrooms 5.5
❦ Vegetarian Dishes
☑ Gluten Free Option Available (Cross contamination may occur during preparation)
Prices and Selection Subject to Change