Date Night Menu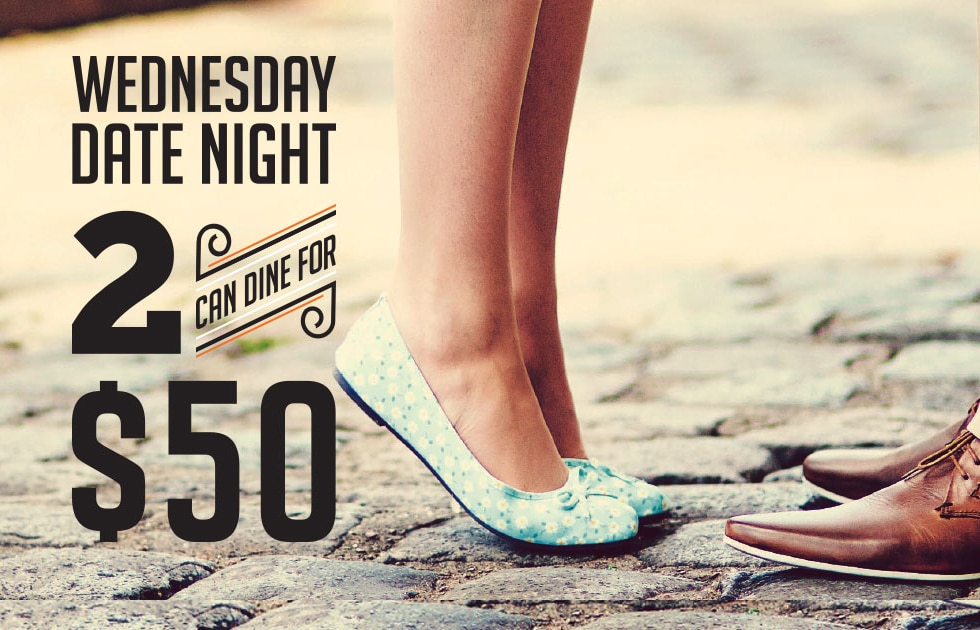 Choice Of Shareable Appetizer
(one per couple)
The Captin's Coconut Calamari
Delicious pieces of coconut marinated calamari, golden fried and served with an Indian-inspired mango chili dipping sauce
Mediterranean Goat Cheese Platter
Warm goat cheese served with our grilled focaccia bread, red pepper relish and roasted garlic ❦
Asian Chicken Bites
Classic chicken bites are given a tasty twist with crisp wontons, cucumber and sweet chili sauce
Hot Spinach & Artichoke Dip
Creamy spinach, artichoke hearts, imported Italian cheeses, served with crispy tortilla chips and fresh cut salsa and roasted garlic
Chili Popcorn Shrimp
Crispy chili spiced shrimp served with popcorn and a chili avocado sauce
Choice Of EntreÉ
(one per person)
The Chopped Salad
Avocado, chickpeas, Feta cheese, red corn tortilla chips, lime cilantro vinaigrette
Portobello Mushroom Chicken
Basil, roasted garlic cream sauce, vermicelli noodles, seasonal vegetables
Thai Red Curry Chicken Bowl
Coconut cream, red peppers steamed spinach, asian vegetables and bean sprouts.
Spicy Thai Basil Noodles
Prawns, chicken, coconut milk and basil infused chili sauce
Old Fashioned Burger
Smoked Bacon, aged cheddar cheese, lettuce, tomato and our signature house-made burger sauce
Orange Basil Salmon
Salmon topped with house-made orange basil butter and leeks. Served with seasonal vegetables and jasmine rice
Steak Frites
Grilled steak with herb jus reduction, Paired with golden Parmesan fries and truffle aioli
Choice Of Shareable Dessert
(one per couple)
Ganache Torte
The finest Belgian chocolate, crushed pecan crust, house-made salted caramel sauce.
White Chocolate Cheesecake
Italian style, rich white chocolate, espresso crème anglais, whipped cream
❦ Vegetarian Dishes
☑ Gluten Free Option Available (Cross contamination may occur during preparation)
Prices and Selection Subject to Change